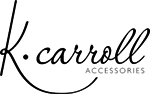 K. Carroll Accessories is a women-owned business, which launched in 2002 as Boutique To U Handbags (BTU). BTU started when I was downsized from my corporate job. I used the opportunity to do something I had a passion for and to have a more balanced personal life. Fifteen years later, I am proud of what my team and I have accomplished together.
BTU started as just that – a traveling boutique focused on trunk show fundraisers, bringing "the boutique to you". But the company has evolved into so much more. With an expanded product line, an e-commerce site and a wholesale business that spans all 50 states, it was time for our name to reflect who we are today.
What you'll find out about our bags is that they are designed with both style and purpose. In addition to being on-trend and fashionable, we always try to offer a "little more". Whether it be our Secure Style line with a built-in identity theft protective lining, our Portable Purse Power products with built in chargers or our vast collection of bags that are two or three bags in one, we try to provide everything you need, housed in one great bag!
We have a new manufacturer, additional features and a new high quality fabric, with close attention to detail in our stitching. Our products are designed based on the customer feedback we've received over the years. Our goal is to provide you with the highest quality, impressive features and stunning designs, all for the best value.
Questions?
Contact us and we'll be happy to help!
Market News
Join us at a market.
Make an appointment today!